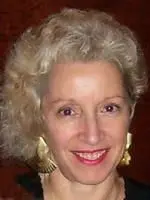 Hello. I am Roberta Rothstein, LICSW, a Clinical Social Worker working with individual, couples, families and groups. I maintain a private practice in downtown Washington, DC.
With over 30 years experience as a mental health therapist, I have developed a practical, informed, creative, caring, wholistic approach to helping clients move forward in their lives.

My areas of expertise: depression, anxiety, addictions of all kinds, compulsive behaviors, eating, weight and body image issues, recovery from trauma and crisis, grief and loss, high conflict divorce, creative approaches to getting unstuck, stress management and work/life balance. I understand and have worked with the mental health system for many years. I am familiar with and asked to consult on clinical diagnoses such as bipolar disorder, obsessive compulsive disorder, post traumatic stress disorder and complex trauma disorder. However I approach each client as a human being, not a diagnosis.

Perhaps he or she is looking to feel less lonely, anxious, angry or hurt, feel more connected with others, feel more valued, more confident, more creative, make key decisions, process intense losses, find or refind joy and passion.
I also have 30 years of experience as a dancer, choreographer, dance and fitness teacher and massage therapist. I have been trained in a variety of bodywork modalities including Ohashiatsu Bodywork, Shiatsu and Swedish massage. I incorporate bodywork, creative use of the arts and creativity enhancement into my work with clients, where appropriate.
I am an interactive, solution-focused therapist. During initial assessment I will ask you many questions about your history. We use this history as important background but also focus on the here and now of what you need. Because I am trained in diverse modalities, I have a wide range of tools to use to help you reach your goals. With compassion, understanding and gentle humor, I can work with you to help you build on your strengths and attain the personal growth you are committed to accomplishing.
I am particularly interested in the growing body of research on the brain, on how our thoughts, feelings and actions are reflected in different areas of the brain and some powerful new methods we can learn to retrain our brains. There is growing evidence that, while we cannot change our history, we can change the way we perceive and experience it within our brains which can, in turn, help to change our mood, our feelings, even how we think about ourselves and our relationships. This is exciting territory through which I guide my clients.

Although I am not a physician and do not prescribe medication for mental health condiitons, I work with several area psychiatrists who do. I am sensitive to many clients' desire not to use medication. I have also seen it be helpful in reducing painful symptoms. I help clients explore the various options in psychiatric medication, make referrals if appropriate and work on medication management with clients and their physician if necessary.

Because I am passionate about finding new ways to help my clients, I regular attend trainings and conferences, both to learn about new approaches and research and to network with other therapists. I put my creativity and knowledge in service to you!

I believe wellness and prevention activities are crucial to maintain a high quality of life. I practice that by staying physically active as a dancer, dance and fitness teacher. I also believe each one of us should find and follow our passions. I walk the walk as Founder and Artistic Director of Momentum Dance Theatre, a dance performance and education organization based in Washington, DC. Information is available at www.momentumdancetheatre.com

Education
Jane Addams College of Social Work at the University of Illinois at Chicago

License: Current Licensed Independent Clinical Social Worker in the District of Columbia.

Additional Training
Certified EMDR Practitioner (Eye Movement Integration and Reprocessing
Certified Massage Therapist in the state of California, trained at the National Holistic Institute
Certified Pilates Instructor
Certified Zumba Instructor
Ohashiatsu Bodywork (Beginner through Intermediate 1 Level)
30 years of training in Ballet, Jazz, Modern Dance, Hip Hop, African Dance, Tap and Folk Dance.
Continually Attend relevant conferences and workshops for additional professionald evelopment.

Professional Activities and Memberships
Member National Association of Social Workers
Member of the MetroDC NASW Chapter
Capitol Region Educators of Dance Organization Board Member and Events Committee Co-Chair
Member National Dance Education Organization
We are committed to your privacy. Do not include confidential or private information regarding your health condition in this form or any other form found on this website. This form is for general questions or messages to the practitioner.
By clicking send you agree that the phone number you provided may be used to contact you (including autodialed or pre-recorded calls). Consent is not a condition of purchase.